Have you been looking for tire repair near Greensburg, Indiana, and Monroeville? If so, now would be a great time to stop by the service center at Delaney Nissan Greensburg!
Our technicians know how much you depend on your tires. To help you be better prepared for possible tire maintenance, we created this guide.
Keep reading to learn more about what a Nissan tire repair entails!
Tire Repair Vs Replacement
When you bring your Nissan to us for a tire repair, you may also need a replacement. It all depends on the condition of your tires. One of our factory-trained technicians will be able to tell you what level of maintenance is needed.
As your tires cruise through the streets, they run over all sorts of debris. Sometimes things like nails can cause small cuts or punctures that are less than ¼ of an inch. A technician will usually repair these with a patch or plug and get you right back on the road!
If your tire has suffered more extensive damage, like a flat or dry rot, it will need to be replaced. Before choosing tire repair or replacement, you'll also want to check tread depth. If it's less than 2/32 of an inch deep, replacing your tires is the safest route!
How Long Do Tires Last?
This is one of the most important questions to ask when it comes to Nissan tire repair. It will help give you a better idea of when you'll need a fresh set of tires, so you can stay safe out on the road!
Generally, tires will last anywhere between 40,000 and 60,000 miles. That's about three or four years for the average American driver.
There are a few things you can do to help extend the lifespan of your tires. You should check their inflation every 3,000 miles and adjust to the recommended pressure as needed. You can also visit our service center for a tire rotation every 6,000 to 8,000 miles.
We can also give you an alignment when you're due!
Important Tire Repair: Alignment
One of the most common Nissan tire repairs we perform at our service center is an alignment. Proper alignment is crucial to promoting even treadwear. It also helps provide a smooth ride and may even give your fuel economy a boost!
To perform a tire alignment, our technicians must check the three angles of your tires. They are:
There are a few warning signs that will let you know if you're in need of this tire repair. For starters, you'll probably notice that your steering wheel is crooked. Your Nissan may also start pulling itself to one side or the other when your alignment is out of whack.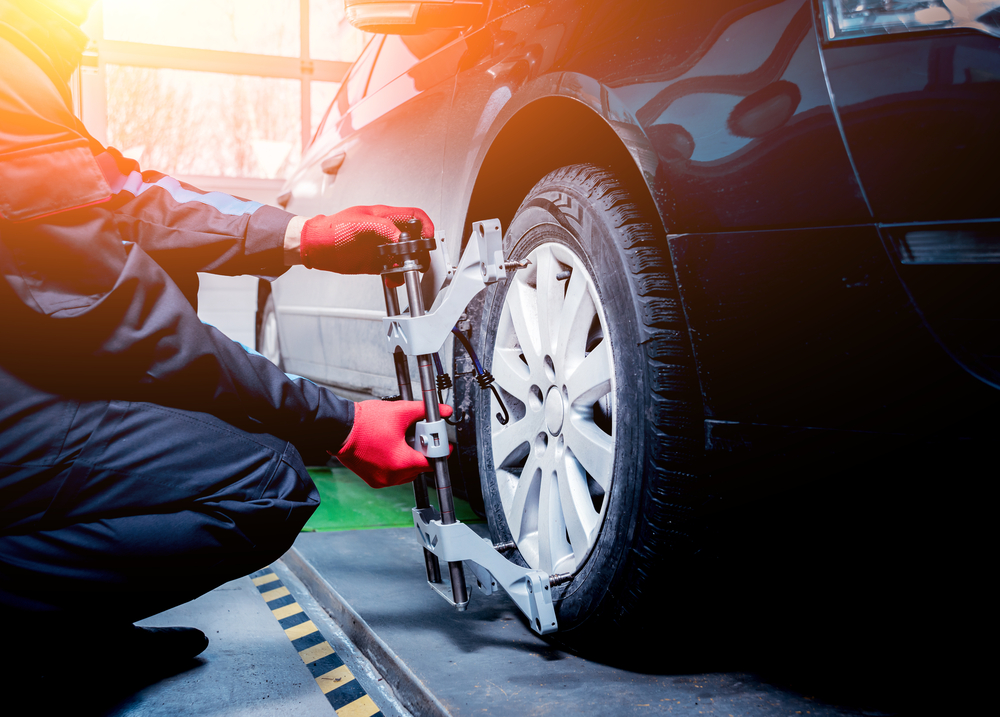 Schedule Tire Repair Today!
Tires are a vital part of your safety out on the roads of Greensburg, Indiana, and Monroeville. That's why our team at Delaney Nissan Greensburg is ready to get you the tire repair you need!
Browse our service specials online, then Schedule a service appointment today!
Hours
Monday

9:00am-8:00pm

Tuesday

9:00am-8:00pm

Wednesday

9:00am-:00pm

Thursday

9:00am-8:00pm

Friday

9:00am-5:00pm

Saturday

9:00am-5:00pm

Sunday

Closed